March 9, 2015, New York, NY--BABE DECOR: The Richard Prince Fashion Line is an ongoing conceptual project by San Francisco-based artist, Jenny Sharaf that examines the current state of contemporary art, female representation, internet culture and issues of copyright/authorship. Existing at the pop culture crossroads of fashion, art, and celebrity, this interventionist and commercial endeavor that took place in various venues including Nahmad Contemporary and the New Museum during Armory week frames feminism for a new generation. BABE DECOR: The Richard Prince Spring Line is now available for mass consumption via Print All Over Me.
In BABE DECOR, Sharaf appropriates Richard Prince's recent show New Portraits at Gagosian Gallery in New York, which featured 37 images taken from other peoples' Instagram accounts, enlarged to roughly 4 x 6 feet and printed on canvas. Sharaf began communicating via instagram to Richard Prince himself, as well as countless of the featured women from New Portraits. One of the subjects from the series, Lindsay Jones, aka @diamondbones, a multidisciplinary artist/model in NYC, was featured in multiple posts and prints on Richard Prince's account. After communicating online for a period of time, and discovering that Jones is a working mother, Jenny invited Lindsay to reclaim the images that Jones originally posted of herself, but that were now selling for approximately one hundred thousand dollars.
The same images from Lindsay Jones' Instagram account that Richard Prince used in New Portraits were also used by Sharaf to design garments and accessories. These items were then worn by Lindsay Jones, who together with a small team of creatives including a photographer, went to the Triennial at the New Museum and Prince's Solo Show at Nahmad Contemporary. So far, the project has been warmly received by art patrons who have been witness to the guerrilla photo shoots. By inserting a fashion model in formal exhibition spaces, Sharaf wanted to consider the role of the female subject within institutional spectatorship.


BABE DECOR: Richard Prince Spring Line 2015 is a project that addresses the complexities of being an artist in the 21st century using tropes of social media, marketing and production in order to bring the spectacle of the internet into real life. By taking Lindsay Jones' identity out of the digital realm, the implications of Prince's work are cast in a new light. Please note that this project is not endorsed by Richard Prince or the Gagosian Gallery.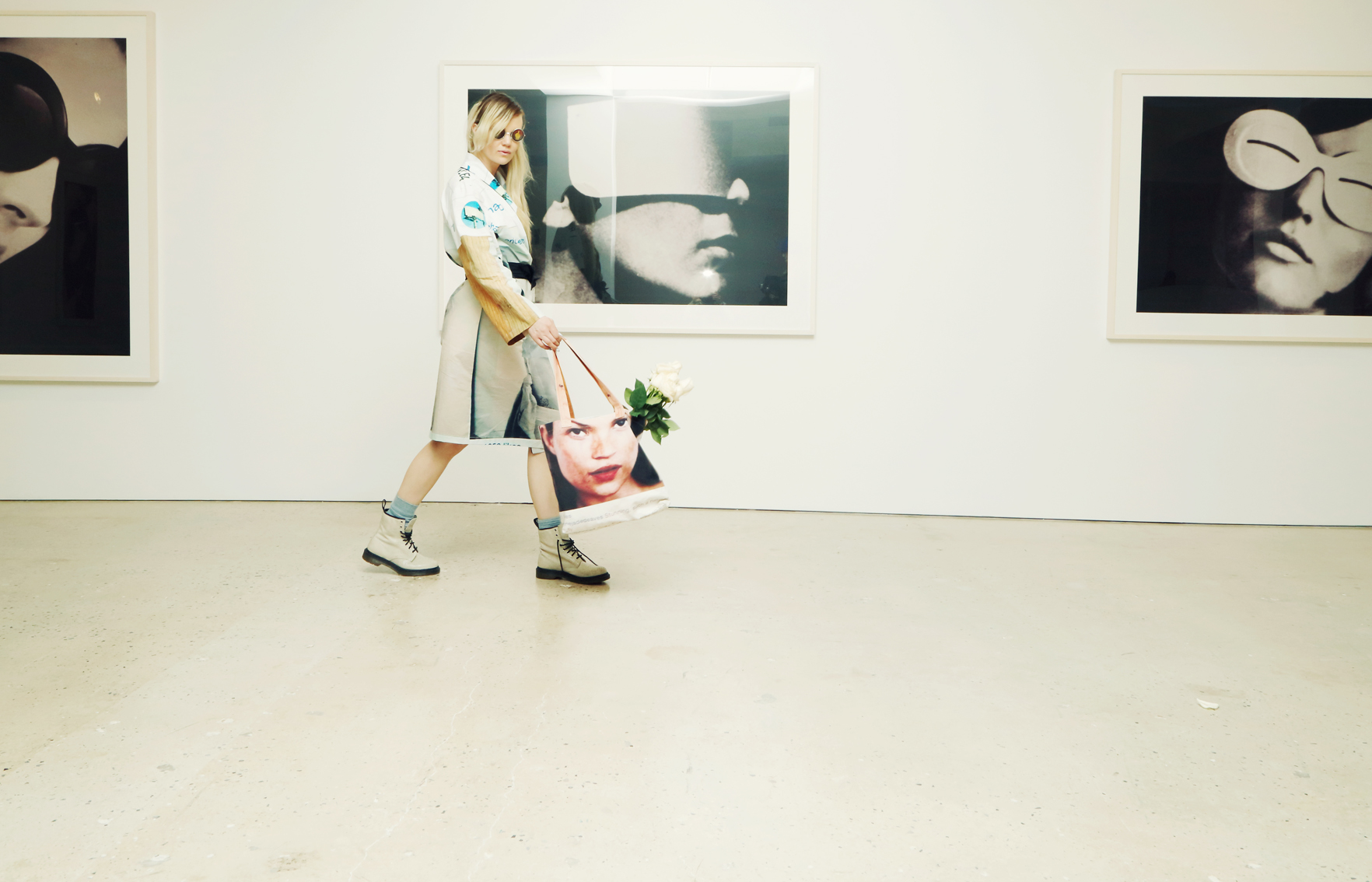 For this project, Sharaf collaborated with a team of creatives including:
Lindsay Jones @diamondbones is a model, artist, designer, muse, and NY it-girl. Her internet presence has been the interest of Richard Prince, Jerry Saltz and James Franco, to name a few. Lindsay has been photographed for Playboy by Terry Richardson and featured in a series of portraits by Richard Prince in June of this year. She has also starred in director Larry Clark's film "Marfa" girl, as a leading lady, and Johnathan Leder's acclaimed film "Promiscuities". Most recently, Jones has been a muse to rising art stars Aneta Bartos, Richard Kern, Chris Luttrell and Martynka Wawrzyniak.
Helga Traxler @photosalonhelga is an artist and photojournalist from Austria, currently living and working in New York CIty. Her photographs have been featured in Dash Magazine, Flair Magazine, Die Zeit and is a regular contributor to T Magazine Blog. Helga was also a studio assistant to Ryan McGinley from 2013-2014. She has shown in group and solo exhibitions in Austria, Portugal and all over the US. Conceptually, she is interested in the blurred lines between art and fashion in contemporary culture. http://www.photosalonhelga.com
Jammi Sloane York is a photographer born in Queens and living in Brooklyn. York is best known for his black and white portraits and documentation of the hard core and punk music scene. Self taught, he has photographed such celebrities as Terri Richards, David Cross and countless seminal figures of the underground community. http://jammiyorkphotography.com
Special thanks for Erica Jaye for hair/makeup and Katrina Rozeville for styling.
Print All Over Me is an online platform for real-world collaboration and creation. PAOM is part of the New Inc at The New Museum and provides the tools that allow anyone to create, share, own, and produce their designs by uploading artwork that can be applied to seasonal collections of clothing and objects. Jenny Sharaf will be a featured artist collaborator for SPRING 2015.
For All Press Inquires & Interviews, Please Contact
jennysharaf@gmail.com